Dances in Her Dreams - a CD recording by Jim Mehrer, as "Becket"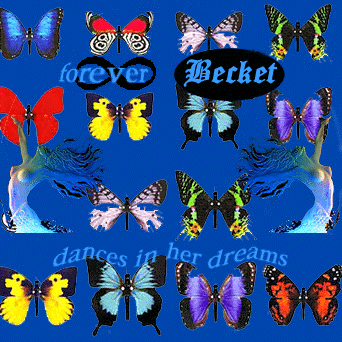 During my high school years, and for the first three years of college, I made my spending money by playing in various rock bands with some of my schoolmates. Like most bands at that time, we played material by other artists, but we also composed some of our own songs. The audiences at sock hops and fraternity parties usually wanted to hear the tunes that were more familiar to them, but we occasionally dared to slip some of our own compositions onto the set list.
I wrote my first song at the age of 14, and dozens more over the next 15 years or so. After that, I put the guitar away and rarely took it out of its case. Occasionally, a lyric phrase would drift into my mind. I would commit it to a piece of paper and throw the paper into my guitar case, but there didn't seem to be any practical reason to continue to write songs.
In December of 2003, our family was affected by the sort of tragedy that strikes countless families every day. My little sister became a 40 year-old widow when she lost her husband to lung cancer. In the fall of 2004, she and I shared a much-deserved 2-week vacation to England. We thoroughly enjoyed it. As we reached the end of our trip, I began to think about her having to return home to an empty house, and to living her life alone. I found myself asking a question which pertained to the husband that she had lost, and to our vacation that was over, and to so many other things that we wish didn't have to come to an end: "Why can't everything just stay forever?" On the flight back from England, I scribbled lyrics on pieces of scratch paper. I gradually added more lyrics to the song (titled Forever) and finished it a few weeks later.
The drummer from my college band is still my good friend today. He owns a professional recording studio just 8 blocks from my house. When I played Forever on the piano for him, he told me it was the best song that I had ever written. He should know. He has heard all of my songs, and played the drums to several of them.
Early in 2006, I was again inspired to write another song, titled Dances in Her Dreams. I finished most of it in just four days, adding one more verse a month later. I told my friend that I had written another song that I thought was as good as the first one, and that I wanted him to record and produce them for me. He loaned me a synthesizer and gave me a quick tutorial on its operation. I spent several late-night hours recording and mixing the instrumental tracks for the songs. I took the results of my efforts back to his studio, where he recorded me singing the lead vocals, backing vocals and harmonies, and mixed it all together.
We could have spent another 10 hours getting everything absolutely perfect, but for a project that was originally intended simply as a recreational exercise, the resulting CD is pretty good. I think so; my friend who produced it thinks so; and just about everybody else who has heard it thinks so, too. The lyrics are poetic, the harmonies are tight, and the melodies are catchy. As for the style, I'd say that they're fairly standard rock songs, with a little bit of quirky and unconventional instrumental choices here and there. I guess that's what happens when you turn me loose with a synthesizer.
Portions of the lyrics from those first two songs are shown below. Over the two years that followed, we added 8 more original compositions to the project. By the way, the "artist's name" on my CD is "Becket," which was the name of my band in college.
If you'd like to own a copy of my CD (which contains 10 songs in all), I've made them available for sale. Production and mailing costs such as they are, the price is $12.00 postpaid to U.S. addresses. To addresses outside the U.S., the price is $15.00.
To order Dances in Her Dreams, send payment to:
Jim Mehrer
2405-30 th Street
Rock Island, IL 61201 USA
* * * * *
dances in her dreams * * * (partial lyrics)
words & music ©2006 jim mehrer. reproduction of the contents of this page, in part or whole, without written permission from the author is expressly prohibited.
she dances in her dreams, because it's easier there
like petals floating on a stream, she glides through the air
as light as powder from the moon, and star dust from the sky
sprinkled on butterflies' wings
she dances in her dreams
sometimes the days get so hard, she breaks down and cries
but then she'll wipe away the tears, and that sparkle returns to her eyes
and then she'll flash that little smile, 'cause she knows in a little while
it doesn't matter now how hard it seems
at the end of the day, all the pain goes away
when she dances in her dreams...
forever * * * (partial lyrics)
words & music ©2004 jim mehrer. reproduction of the contents of this page, in part or whole, without written permission from the author is expressly prohibited.
when a honey yellow summer breeze meanders through the alder trees
and whispers past a wheat field as it flows along its way
on those lazy, winding, endless days full of marigolds and lemonade
i look around and wonder, why can't everything just stay
forever
well, i'll admit that i'm a bit of a dreamer
and i'd start dreaming every time that i'd see her
i know it might be getting late, but i'm quite prepared to wait
forever...